The El Camino Healthcare District Board of Directors is responsible for ensuring the District's mission is accomplished and for providing public oversight of District business affairs.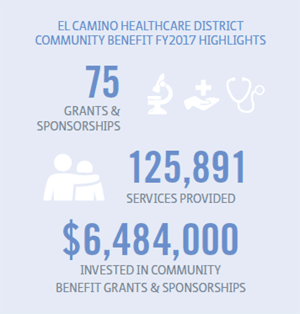 This includes exercising certain retained authority over El Camino Hospital and determining the use of tax revenue for community benefit programs and other uses. The strong financial performance of both the District and Hospital is essential to meet evolving health needs and challenges of our community.
As part of the District's transparency efforts and good governance, an annual Independent Auditor's Report of the El Camino Healthcare District is prepared and certified by the public accounting firm of Moss Adams LLP and made available to the public. The report covers all six entities of the District, of which El Camino Hospital is the largest, and includes balance sheets and financial statements of revenues, expenses, and changes in net assets. This audit also provides important information on the spending of District funds and how we are using them to address community health needs. Read the Independent Auditor's Report by downloading a copy of the 2017 Audit report or view additional information and reports on the Financials page of this website.
Learn more about El Camino Healthcare District Community Benefit or download a copy of the 2017 Community Benefit Report.
If you would like to learn more about the El Camino Healthcare District, we invite you to attend one of our board meetings or watch it online.